Meet Our Family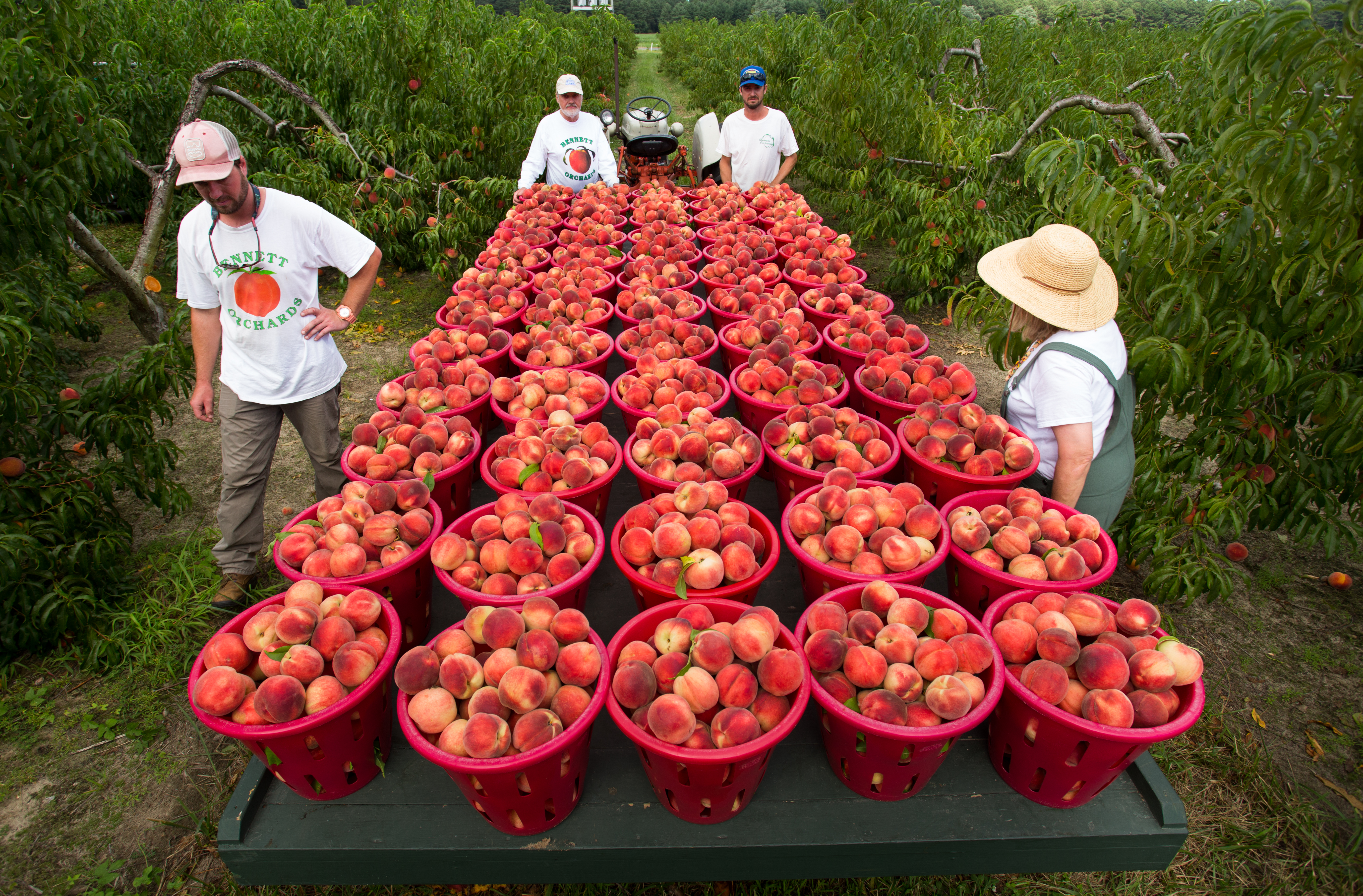 The Bennett Family

James Hail Bennett Jr, or "Jim"
Jim was the fifth-generation to be born on the current Bennett Farmstead. A lifelong native of Sussex County, Delaware, Jim grew up on the current farmstead, surrounded by free range chickens, turkeys and grain crops. In 1967, Jim graduated from John M. Clayton, which is now known as Indian River High School. Upon graduating high school, Jim attended college at the University of Virginia where he graduated in 1972 with a degree in electrical engineering. After graduating college, Jim applied his engineering degree, serving as an officer in the National Oceanic and Atmospheric Administration, or NOAA, for five years. He was stationed all over the Caribbean and southeast. Eventually he was stationed on the Gulf Coast of Florida, where he met Carrie, a native of Florida, who at the time, was a student at Florida State University. After serving five years in NOAA, with Jim's heart truly still on the Bennett Farmstead, he and Carrie married in 1978, after she graduated college, and the two moved back to Delaware to live on the current Bennett Farmstead. He planted the first Bennett Peach Trees in 1980, had his first son, Hail in 1987, and his second son, Henry, was born in 1990. Both sons work daily on the farm, alongside Jim, continuing their agrarian legacy for future generations. Jim has always lived by his motto of trying to, "grow a perfect peach in an imperfect world," and remains the patriarch of Bennett Orchards.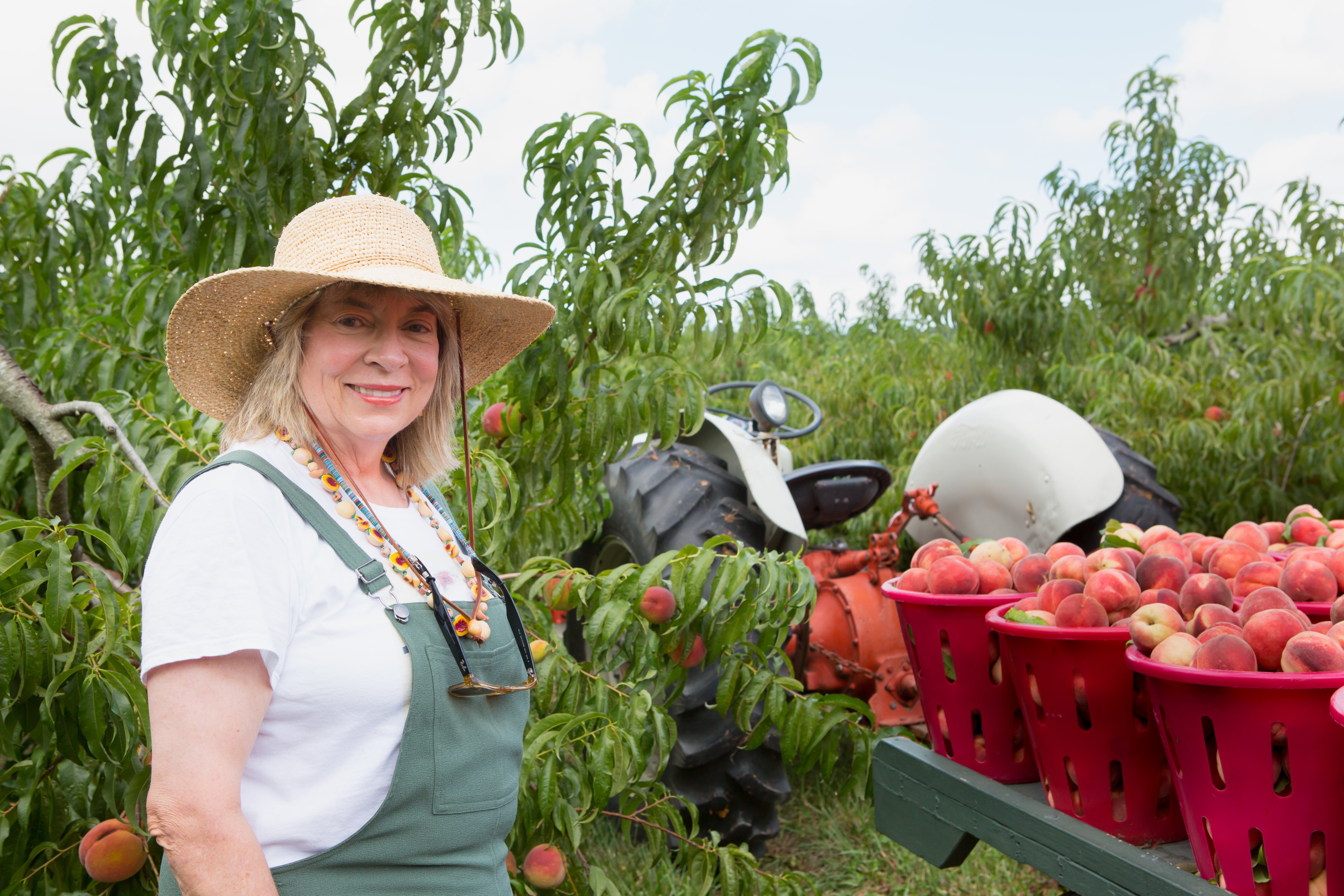 Carrie Bennett
Carrie, originally from Tallahassee, Florida, graduated high school from Leon High School in Tallahassee in 1974. She then went on to attend Florida State University, where she was introduced to Jim by her mother, who was stationed nearby on the Gulf Coast of Florida. Following her graduation from Florida State University with a degree in Criminology, in 1978, Carrie married Jim that same year and the two moved back to the Bennett Farmstead. Quickly adapting to the pace of farm life in rural Delmarva, Carrie became an elementary school teacher and received a Masters in Education, allowing her to support the family during years where there was a little or lighter peach crop. During her summers off from being a teacher, in addition to raising their two sons, Hail and Henry, Carrie was a fixture at the pick your own peach operation, helping it achieve the level of famosity that it is today. Carrie is now a retired school teacher, grandmother, mother, farm wife and the matriarch of Bennett Orchards. She has been instrumental in creating several coastal producers-only farmers' markets that allow Bennett Orchards, and many other family farms on Delmarva, to sell their agricultural goods grown on their farms to eager customers along our shores. Her Bennett Blueberry and Bennett Peach Muffins are also considered by many to be regionally famous.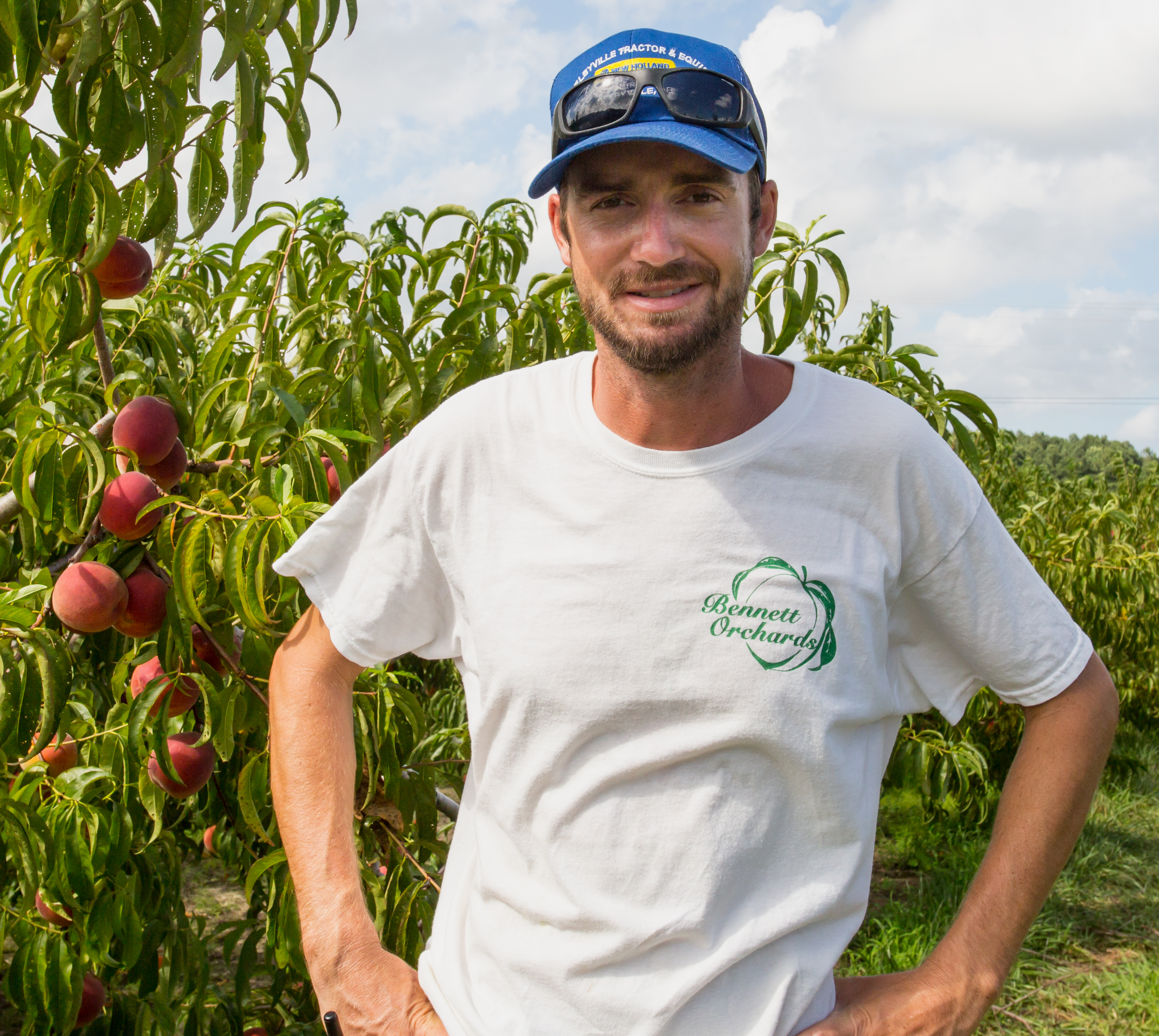 James "Hail" Bennett III
Hail, a sixth-generation farmer and lifelong native of Sussex County, Delaware, graduated from Indian River High School in 2005 before attending Clemson University. A diehard devotee as a child to the farm, Hail graduated from Clemson University in 2009 with a degree in Horticulture. Hail had always set his sights on returning to the farm, so we was able to gain a vast horticultural knowledge that he applied directly to Bennett Orchards. Upon graduating and moving back to the farm, Hail planted the first 8 acres of Bennett Blueberry Bushes in 2011, that went into production in 2014. Hail continues to be the expert in all aspects horticulturally of current Bennett Blueberry and Bennett Peach Production. Shortly after moving back to the farm, Hail met his wife Ashley and the two were married on the farm in 2013. Ashley works in the summer on the farm, helping to manage the pick your own operation. In 2018, Hail and Ashley welcomed their daughter, Violet, into the world. Violet is the seventh generation to successively reside on the Bennett Farmstead. All three currently live in the original farmhouse on the Bennett Farmstead, that dates back to the early 1850's.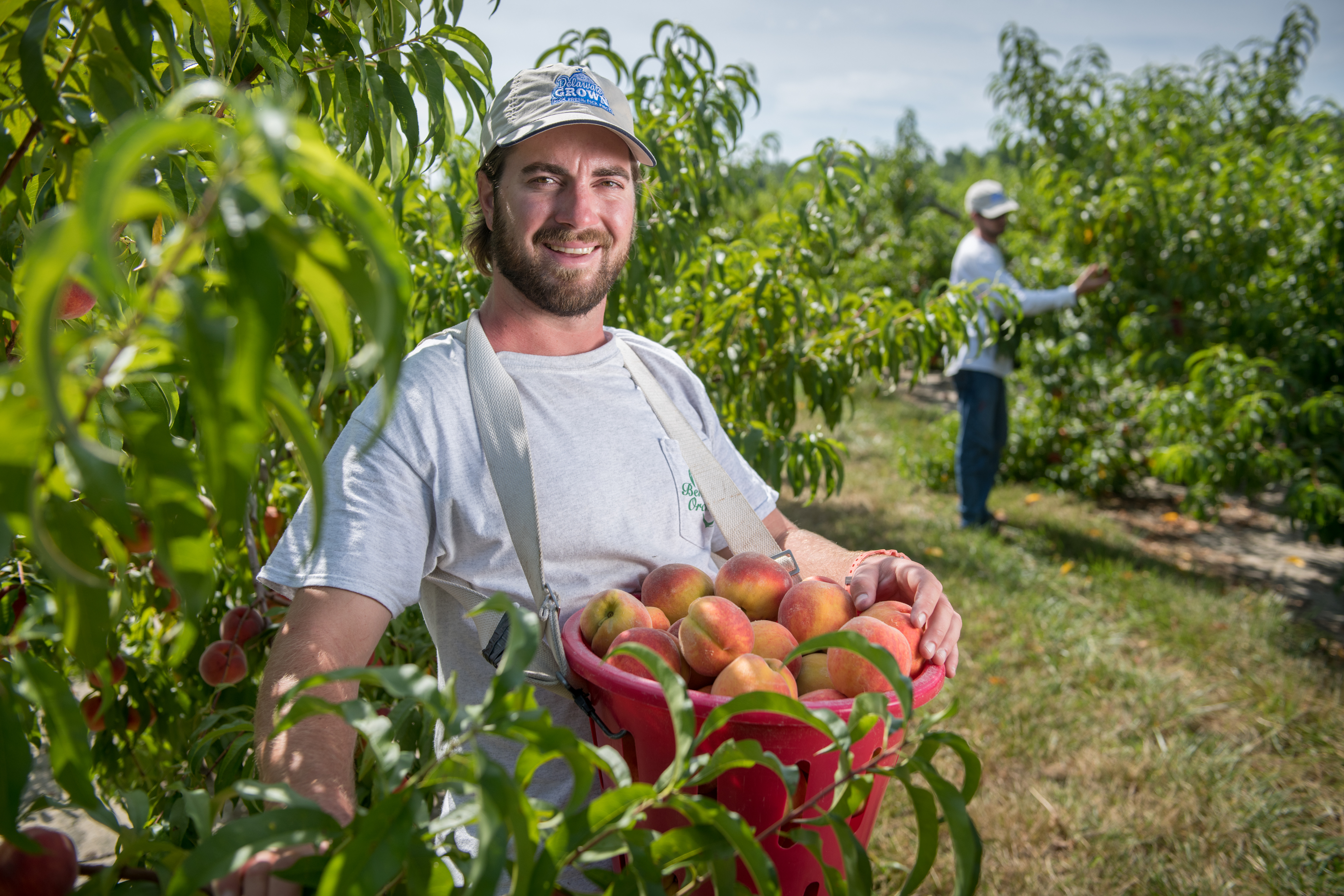 Henry Bennett
Henry, a sixth-generation farmer and lifelong native of Sussex County, graduated from Indian River High School in 2008 before attending the University of San Diego. As a child, Henry always gravitated towards the customer interaction side of the business where he enjoyed working at the pick your own stand and seeing the smile on people's faces when they bit into a fresh Bennett Peach. Eventually, at age 16, when Henry was able to drive, he started doing several farmers markets per week along the Delmarva coast, of which Bennett Orchards still participates to this day. While attending college, Henry returned home each summer to continue working farmers' markets for Bennett Orchards, applying what he learned each year that following summer. In 2012, Henry graduated from the University of San Diego with a degree in Business and Spanish before moving back to Delaware to sustain his agricultural legacy and continue to serve the same loyal customers whom he had met as a young adult. Henry continues to apply his business background to all aspects of Bennett Orchards and can likely be seen at most of our daily farmers' markets, in-season.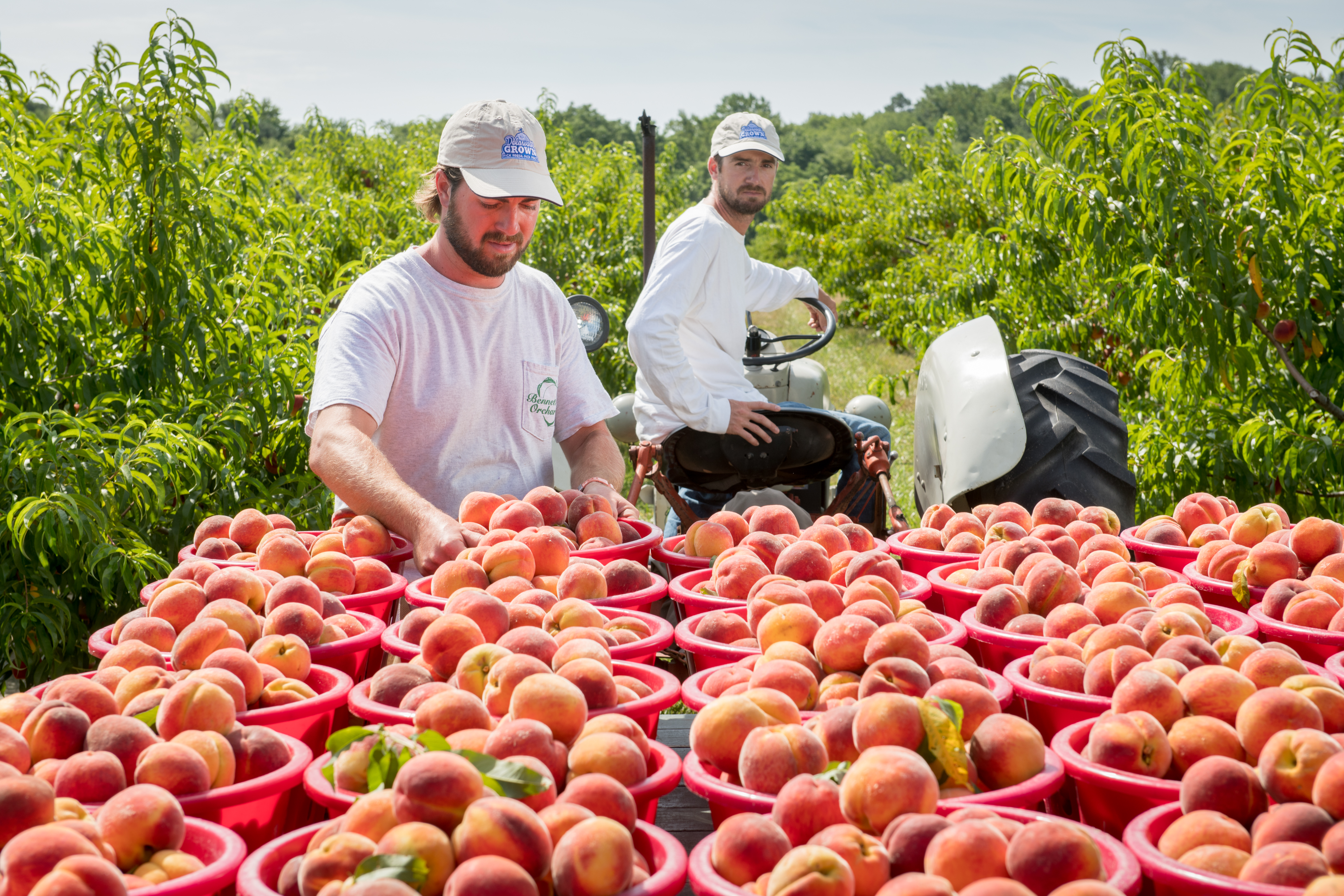 All photos on bennettorchards.com are courtesy of the Bennett Family, Brook Hedge, Edwin Remsberg and Delaware Grown.