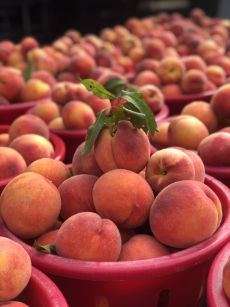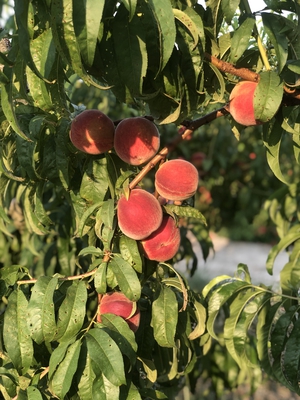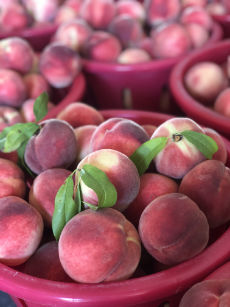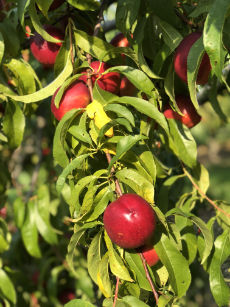 Uniquely suited to our Mid-Atlantic Climate, Bennett Orchards grows 15 different varieties of yellow peaches, a variety of white peaches and a variety of nectarines. The unique climate, soil, topography and salty sea-breeze of the Delmarva Peninsula make it one of the finest growing regions in the world for these delightful summertime delicacies. Estimated times of availability are approximate and vary from year to year so it is important to contact us by phone at 302 732 3358 or visit our homepage before each visit to pick-your-own Bennett Peaches. Also, visit our homepage, in-season, to see our daily farmers market location(s) and offering(s) at our 8 weekly coastal farmers market locations. In ordering of ripening, and lasting approximately one week per variety, Bennett Orchards grows the following varieties of Bennett Peaches and variety of Bennett Nectarines:
Early July:
Sentry- a semi-freestone yellow peach and the first Bennett Peach of the summer. This varietal comes "right out of the gate" with an impressive flavor, appearance and aroma, reminding you of what a real peach should taste like, especially after a peach-less winter.
Summer Serenade- a semi-freestone yellow peach, this early season variety has a large size, beautiful appearance and a delicious flavor that practically sings to your tastebuds.
Ga-La- a semi-freestone yellow peach named after Georgia and Louisiana, of which region this famed variety originally hails from. As the name implies, it is truly a Southern Belle of a peach that also happens to be perfectly suited to our Southern Delaware climate. An excellent variety to continue your "peachy" summer journey.
Mid to Late July:
Redhaven- a yellow freestone peach that is the first fully freestone peach of our season and considered to be the "gold standard" of all peaches. Once you take a single bite, you'll immediately realize why. Its alluring appearance and luscious flavor make it not only a perfect snack but also ideal for baking, canning and freezing. This particular heirloom variety has been grown on Delmarva since the early 1940's.
Bellaire- a yellow freestone peach, this particularly large variety boasts an exceptionally succulent flavor and beautiful appearance. It is a part of the "Loring" family of peaches, making it truly a local favorite here on Delmarva.
Lucky #13- a yellow freestone peach that is as beautiful to look at as it is to eat. Boasting a beautiful red color shrouding a candied flesh, this variety is sure to hold a special place in every peach-lover's heart.
GloHaven- an heirloom yellow freestone peach, this delectable variety has a deep yellow background color that is shaded by a "glowing" red blush. It has been grown on Delmarva since the days that it was sold by horse and wagon, making it a time-tested summer favorite. Perfect to bite right into, bake, can or freeze.
BlushingStar (White)- a white freestone peach, and the only white variety of Bennett Peaches. This much anticipated local favorite has an elegant pink blush partially covering a white, velvety background color concealing a creamy, white flesh. Its delicate, floral flavor has become beloved by all Bennett Peach fanatics over the years. Be sure not to miss out as they're only available for about a week each summer.
Early August:
Bounty- an heirloom yellow freestone peach, this beauty boasts an excellent flavor, appearance and texture. Its natural sweetness and juiciness remind your tastebuds why Bennett Peaches remain Delmarva's Finest.
Loring- an heirloom yellow freestone peach, described by many as a "Royal Peach." It boasts not only an impressive size but also has a classic yellow peach flavor that has become renowned on the Delmarva peninsula for over half a century . Don't just take our word for it. Take one bite, and with a juicy chin, you'll instantly realize why it has achieved such fame.
GlowingStar- a yellow freestone peach, this "Shining Star" of peaches has a beautiful red "glow" enveloping an aromatic, saccharine yellow flesh that is perfect for any use.
Mid to Late August:
Messina- an Italian-style yellow freestone peach, or "pesca gialla." It features a colorful scarlet blush that fully engulfs a classic golden background color. However, the real beauty of this peach lies on the inside once you taste the succulent, juicy flavor that has become revered since we first planted it. Tracing its roots back to Italian ancestry, it is named after a famed fruit growing region in Europe, on the island of Sicily, where similar varieties have been grown for centuries.
Fantasia (Nectarine)- a yellow freestone nectarine, and the only variety of Bennett Nectarines. These super-sweet, tree-ripened delights are regionally acclaimed, exposing what a true, fresh-from-the-tree, nectarine should taste like. These fuzz-free beauties are only available for about a week each summer so be sure to keep your eyes peeled for them. Additionally, they are also exceptional for canning, freezing, or eating over the sink, just like all Bennett Peach Varieties.
Jumbo Flaming Fury- a yellow freestone peach, this colossal Bennett Peach is the largest peach variety in the world! In fact, we tied the world record a few years back with these. While they're the biggest in the world, their honey-like flavor is also phenomenal and the amount of slices you get from just one peach is unrivaled by all other varieties.
Flaming Fury #27- a yellow freestone peach, this attractive late season belle has a crimson blush over a brilliant gold background color. Its splendid taste and syrupy flesh allow it to be a flawless successor to all of the afore mentioned Bennett Peach Varieties. When you see these in season, start stocking up as peach season will soon be over!
Flaming Fury #28- an heirloom yellow freestone peach, this dazzling yellow variety is one of the concluding varieties of our season and begins to signify that Bennett Peaches, and summer, are nearly finished for the year. While as sad as the thought of Bennett Peaches wrapping up for the season may be, the exquisite, delicious flavor of this variety pays homage to all of the wonderful Bennett Peach varieties previously enjoyed throughout the summer.
Encore- an heirloom yellow freestone peach, this variety is the final variety of Bennett Peaches for the summer, signaling, "That's all folks!" Always humongous, these last-of-the-season beauties play an "ode to summer" for your tastebuds, allowing you to reminisce of a fine, peachy summer of Bennett Peaches. This variety also has a lengthier shelf-life when laid out at room temperature, allowing you to stretch your personal Bennett Peach Season just a little longer!
Our Favorite Variety of Bennett Peaches? Well, it's always the one that was just pulled off the tree. We aim to ensure that every Bennett Peach is incredibly delicious. So sweet and juicy that you'll need to lean over to avoid getting juice all over your shirt. The kind of peach you tell your neighbors about. To us, that's the best Bennett Peach, the one in your hand.
Please reference Softening, Storing, Peeling, Freezing & Canning Bennett Peaches for information on
how to soften, store, can & freeze Bennett Peaches so that you may fully enjoy and maintain the exquisite flavor of all Bennett Peach Varieties.
We also offer Farmstead Recipes for additional ideas on how to further enjoy Bennett Peaches.
"Take a Peach to the Beach!™"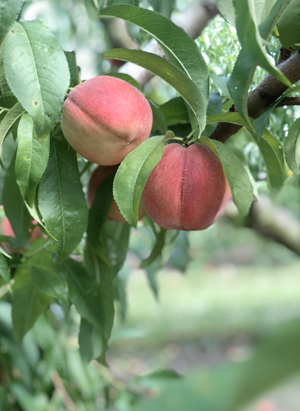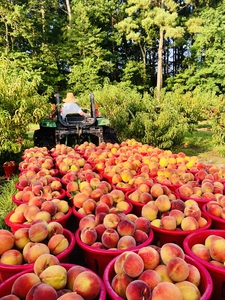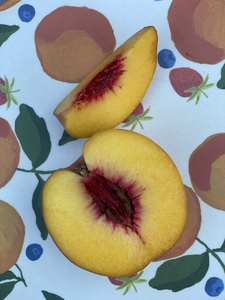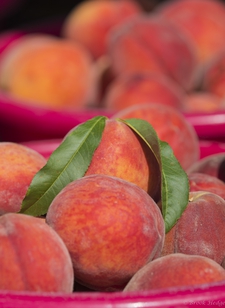 "A peach will make a poet out of anyone." - Uncle Jerry