Bennett Blueberry Varieties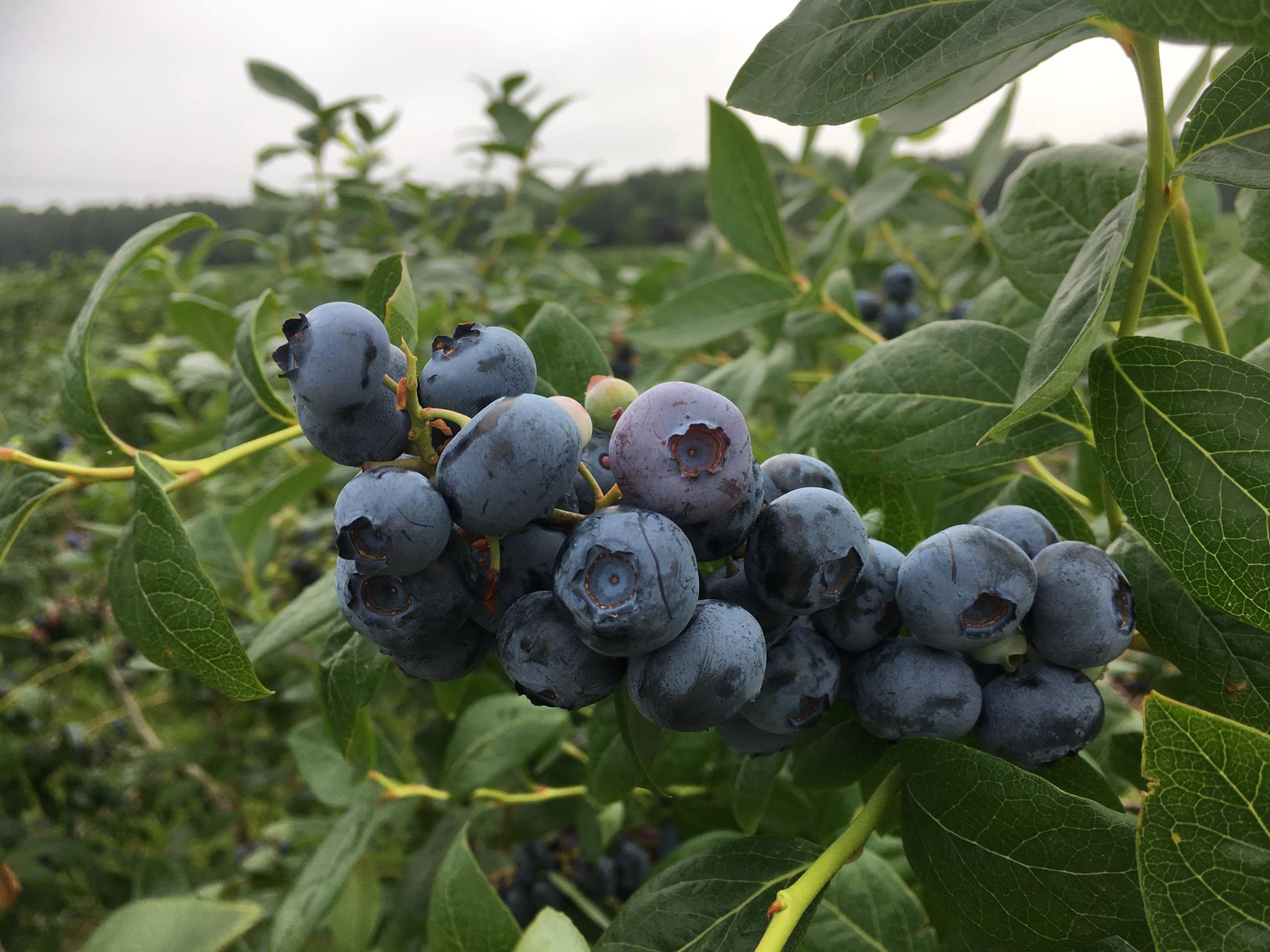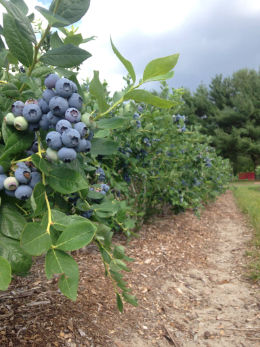 At Bennett Orchards, we feature five different varieties of "Larger than Life," Northern Highbush Bennett Blueberries. Our harvest typically begins in early to mid June and lasts through mid to late July. Overall, Bennett Blueberry Season typically lasts for 4 to 6 weeks. Ripening dates of the varieties listed below tend to overlap quite a bit, meaning multiple varieties are often available simultaneously. These dates are approximate and do vary from year to year, so it is important to contact us by phone at 302 732 3358 or visit our homepage prior to visiting our historic farmstead to pick-your-own Bennett Blueberries. You may also visit our homepage to see our daily farmers' market location(s) and times, in-season, and find out what varieties are currently available at market. In order of ripening, and with a harvest duration of about 2 to 3 weeks per varietal, Bennett Orchards offers the following Bennett Blueberry Varieties;
Duke- The earliest Bennett Blueberry variety, this beautiful berry kicks off our season with an excellent size, citrusy sweet flavor profile and lovely powder blue finish. It is typically first available in early to mid June and usually lasts periodically until the end of June at our pick-you-own orchards and at our farmers' markets. These perfectly cared for, vigorous plants provide impressive yields making Duke a true favorite among our early season varieties.
Spartan- A few days after Duke, in early to mid June, Spartan graces the Delmarva peninsula with its presence, arriving with an enormous size and beautiful deep blue color. Taste testings among our loyal fans have decided the flavor of Spartan to be one of the best and we couldn't agree more. Spartan's enchanting and impressively sweet flavor have made it a customer favorite for years. They truly are a local favorite and seem to fly off of our bushes, so be sure and get them while they last.
Draper- About a week after Spartan, our Draper variety of Bennett Blueberries arrives on the scene. This early to mid season variety, available toward the middle and end of June, is highly productive with outstanding quality, making picking them a breeze. Draper is exceptionally firm, in a good way, giving it an excellent shelf life that is ideal for eating fresh by the handful, baking or freezing. Their immense size, sapphire hue, candied flavor and crisp texture have granted this variety a special place in the heart of any Bennett Blueberry fanatic.
BlueRay- Around late June to early July, this heirloom Bennett Blueberry variety makes its initial appearance of the season. These colossal, indigo-blue Bennett Blueberries bear a superb, floral-like, flavor that is revered by all. Having been grown on the Delmarva peninsula since the 1940's, these berries have withstood the test of time and are a staple of early summer for residents and visitors alike on the Delmarva peninsula. This tried-and-true variety of Bennett Blueberries remains perfect for any use.
BlueCrop- The final variety of our season, available around the first of July and lasting until mid to late July, it is our flagship variety of Bennett Blueberries. BlueCrop is an heirloom berry that has been grown on Delmarva since the early 1940's. This time-tested varietal has remained the "gold standard" of all blueberries for over half a century. Delicious, exceptionally nutritious, and with an amazing shelf life, these humungous Bennett Blueberries have a classically sweet flavor and alluring aroma. Its graceful powdery blue appearance is as visually stunning as its flavor is mouthwatering. Over decades, many varieties have come and gone but BlueCrop remains creditworthy. Don't just take our word for it, the relatively extended duration of this variety makes plenty of them to go around for you to pick-your-own and to purchase at farmers markets. The last variety of our season and arguably the most bountiful, BlueCrop is ideal to eat bowls-upon-bowls fresh or to preserve, bake, and freeze, among other uses.
Please reference Storing & Freezing Bennett Blueberries for information on how to freeze, store and fully enjoy Bennett Blueberries, to maintain the exquisite flavor of all of our varieties of Bennett Blueberries.
We also offer Farmstead Recipes for additional ideas on how to further enjoy Bennett Blueberries.
Blueberries Larger than Life!