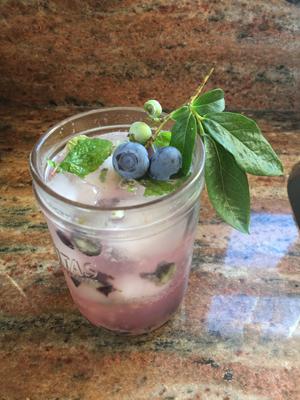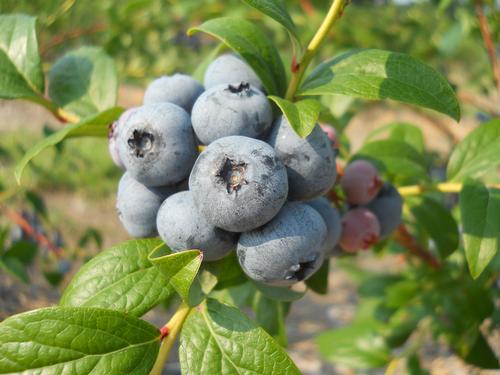 We pride ourselves on growing the finest blueberries on the Delmarva peninsula so it's only fair that we share some of our favorite farmstead recipes, passed down through generations.
For additional recipes, please request our current Recipe Sheet when you visit us at our farmers' market locations or at our pick-your-own orchards. 
For information on how to freeze Bennett Blueberries please visit Storing & Freezing Bennett Blueberries.
---
Early Summer Salad with Bennett Blueberry- Balsamic Dressing
Salad:
2 cups Bennett Blueberries
 2 cups mixed spring greens
 ½ cup crumbled Bleu Cheese
 ½ cup toasted walnuts 
Dressing:
¼ cup Bennett Blueberries
 ¼ cup balsamic vinegar
 ¼ cup olive oil
 1 ½ teaspoons local honey 
 1 ½ teaspoons Dijon mustard
 Salt and Black Pepper to taste
Toss spring greens, 2 cups Bennett Blueberries, Bleu cheese and walnuts together in a bowl. Blend remaining Bennett Blueberries, balsamic vinegar, olive oil, honey, and mustard together in a blender until dressing is smooth. Season dressing to taste with salt and black pepper. Pour dressing over salad and toss to coat. Serves 2. 
---
Bennett Blueberry Muffins 
1 heaping cup Bennett Blueberries  
 2 cups flour
 3 teaspoons baking powder
 1/2 teaspoon salt
 2 tablespoons shortening, olive oil, or melted butter
 (In lieu of flour, baking powder, salt and shortening you may use 2 cups Bisquick)
 1/3 cup sugar (we prefer Turbinado)
 2/3 cup milk
 2 tbsp vegetable oil
 1 egg
Heat oven to 400˚ F. Dry whisk all flour, baking powder, salt and shortening/ olive oil/ melted butter together. (May also substitute 2 cups of Bisquick as afore mentioned.) Grease only the bottoms of 12 medium muffin cups or line with paper baking cups.
 Stir all ingredients except blueberries just until moistened. Fold in blueberries. Divide evenly among muffin cups. On top of muffins sprinkle sugar.
Bake 15-18 minutes or until golden brown. Makes 12 muffins.          
---
Bennett Blueberry Mint Lemonade
Lemonade
2 heaping cups of Bennett Blueberries  
 Simple Syrup (see below)
 1 1/2 cups fresh squeezed lemon juice
 1 lemon sliced
 10 large mint leaves (optional)
 5 1/2 to 6 1/2 cups of water to taste
Handful of Bennett Blueberries for garnish    
Simple Syrup
1 1/2 cups granulated sugar
 1 1/2 cups water
Bring the sugar and water to a boil in a saucepan. Boil until the sugar is melted and the liquid is clear. Set aside. In a large pitcher, muddle or macerate Bennett Blueberries, lemon juice and mint leaves (if desired). Then, add cooled simple syrup and water to the same pitcher and stir until you reach an even consistency overall. Chill, or add ice, and serve immediately. Garnish with lemon slices. Makes about 8 beverages.
*For a perfect summer libation you may add 12 ounces of vodka, rum or other preferred liquor to entire pitcher. Or add 1.5 ounces to each individual drink.
 Enjoy with friends & family. 
---
Grandma Bennett's Fresh Blueberry Pie
6 heaping cups Bennett Blueberries
 1 nine inch pie shell baked
 1 cup sugar
 1 cup water
 1 tsp grated lemon rind
 3 tbsp cornstarch
Bring 1 cup blueberries, 3/4 cup sugar, 3/4 cup water and lemon rind to a boil in a pan. Combine the remaining sugar, water and cornstarch and stir into boiling berries. Cook for about one minute or until clear and thickened. Cool blueberries. Place remaining blueberries in pie shell and cover with the cooked glaze and chill until completely set.
 Serve with whipped cream or your favorite ice cream!
---
Bennett Blueberry & Chia Seed Smoothie Bowl 
Smoothie Base
2 cups Bennett Blueberries (may be frozen beforehand for icier smoothie bowl)
 1 tbsp Almond Milk
 1 Banana 
Toppings
2 tbsps flaked coconut
 3 tbsps chia seeds
 2 tbsps pumpkin seeds
 Handful of Bennett Blueberries
Place coconut flakes in a small skillet. Cook over medium heat, stirring frequently, for 4-5 minutes or until golden brown. Transfer flakes to a plate and allow them to cool as you prepare the rest of the ingredients. Place half of the blueberries, the banana, and the almond milk in a blender. Blend on high speed until the mixture swirls easily inside the blender. Add the frozen blackberries and continue to blend just until the mixture begins to swirl again. Do not over process. Pour mixture into a medium-sized cereal bowl and smooth the top with the back of a spoon. Make a semi-circle along the left rim of the bowl with about 9 blueberries, each with their crown facing upward. Create a second blueberry semi-circle next to the first. Next, sprinkle the chia seeds in a straight line near the blueberries. Trim green tops from the strawberries, and slice them lengthwise into ½ inch slices. Fan the strawberries in a line next to the chia seeds. Sprinkle the cooled flaked coconut in a line next to the strawberries. Finally, sprinkle the pumpkin seeds next to the coconut flakes. Serve immediately. Makes 1 smoothie bowl. 
---
From our family to yours, enjoy the fruits of our labor.