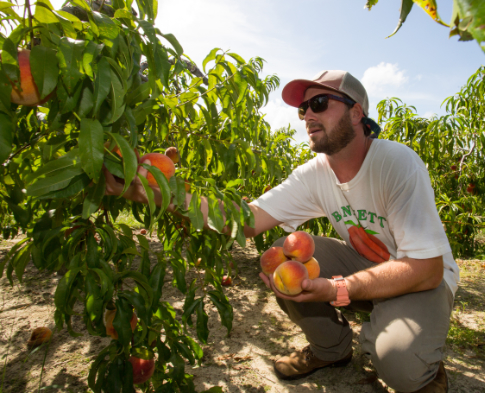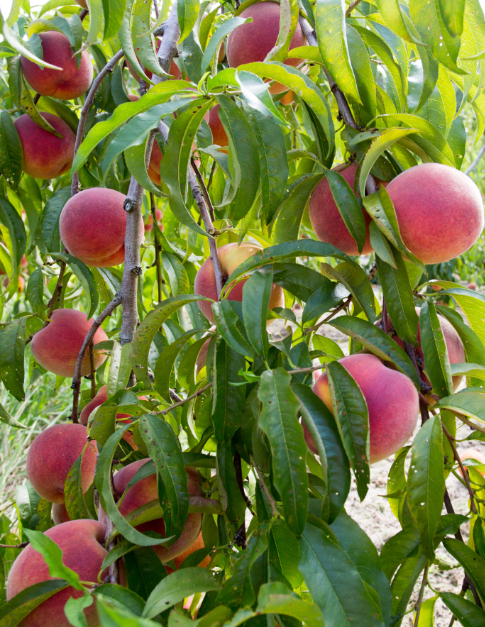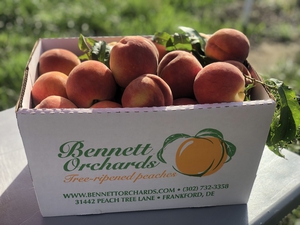 Availability
Beginning approximately in early July and lasting through late August, Bennett Peaches have become a unique staple of summer on Delmarva. At Bennett Orchards, we offer 15 different varieties of yellow peaches, a variety of white peaches and a variety of nectarines, each uniquely suited to our Mid-Atlantic Climate. Lasting approximately one week per variety, these juice-dripping-down your chin varietals can all be found on our Bennett Peach Varieties Page. We always ask that you please check our homepage or call 302 732 3358 for a daily update on picking conditions prior to your visit.
How to Pick Bennett Peaches
When selecting Bennett Peaches in our orchards, keep the following in mind for an effortlessly succulent summertime experience:
1. LOOK FOR THE PROPER COLOR - The ripest Bennett Peaches will have a deep yellow background color. The red color, or "blush," is not an indication of how ripe a peach is.
2. HOW FIRM SHOULD A PEACH BE? - A tree-ripened Bennett Peach is firm to the touch but will soon soften once picked and left out at room temperature for a few hours, or days, depending on the variety and ripeness.
3. PICKING A BENNETT PEACH - Once you've got your eye on that perfect Bennett Peach, gently twist, as a ripe peach should separate easily from the branch.
4. VARY THE FIRMNESS - Select and pick Bennett Peaches with varying degrees of firmness, layering firmer peaches on the bottom of your Bennett Orchards' Box and softer ones on top.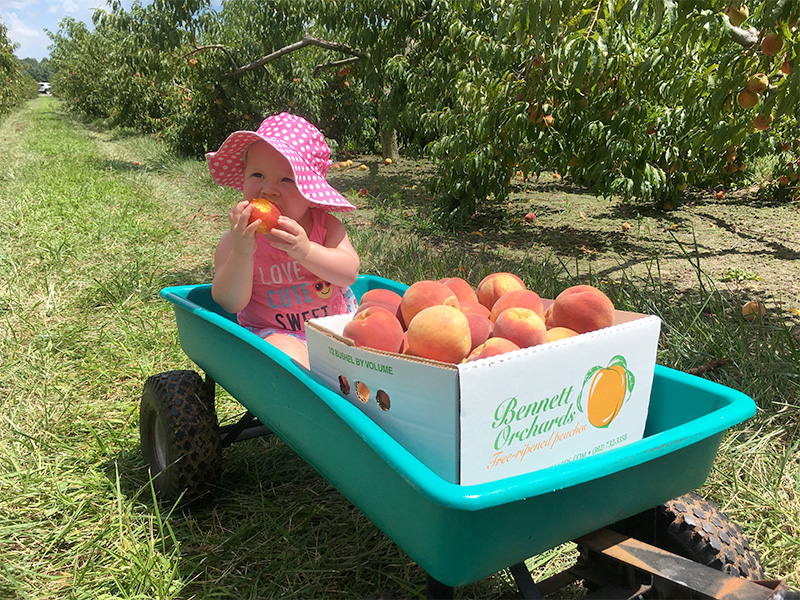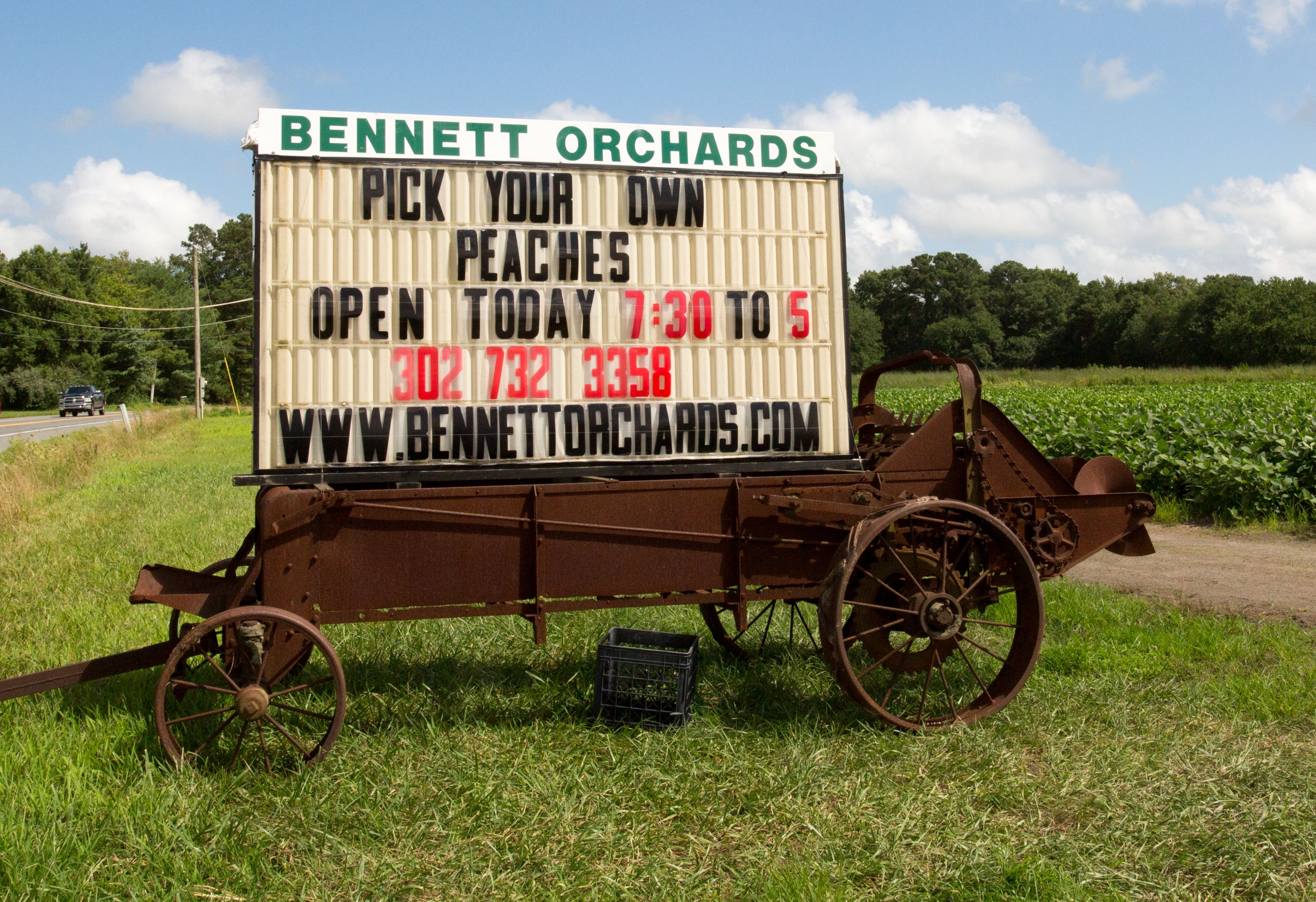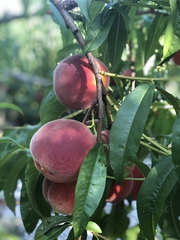 Additional Information
For your convenience, complimentary picking containers are provided, free of charge, to take home. Bennett Peaches and Bennett Nectarines are priced per pound with a 10 lb. Minimum. Our current price per pound is listed under our "Current Pick Your Own Status" on our homepage. Additionally, we offer a 10% discount when picking over 100 lbs. Wagons are also provided for use when picking, free of charge, to further facilitate your picking experience, making pick-your-own Bennett Peaches a "peachy," unique and fun experience for all ages. On your return visit you may reuse your Bennett Orchards' Box for a discount! Please refer to "Your Picking Experience" for further information on the entire pick-your-own experience at Bennett Orchards. We always ask that you please check our homepage or call 302 732 3358 for a daily update on picking conditions prior to your visit.
At Home
Once home, remove all of your freshly-picked Bennett Peaches from your Bennett Orchards Box and spread them out stem side down, 1-2" apart, at room temperature. If you want to expedite the softening process of your peaches, you may place a few inside a paper bag and seal the top, preventing air from getting in or out. When inside a sealed paper bag, the beautiful aroma of Bennett Peaches, that tantalizes your nostrils, will help expedite the softening process. Placing the sealed bag outside of the air conditioning also speeds up the softening process even more. However, only do this with the ones that you want to eat in the next 12 to 24 hours and leave the rest spread out, inside at room temperature, as afore mentioned, unless you want them all ready-to-eat at once. Always be sure to never refrigerate Bennett Peaches. For more tips, tricks, and information on how to freeze, can or peel Bennett Peaches, please refer to our Softening, Storing, Peeling, Freezing & Canning Bennett Peaches page. We also offer some of our favorite Farmstead Peach Recipes.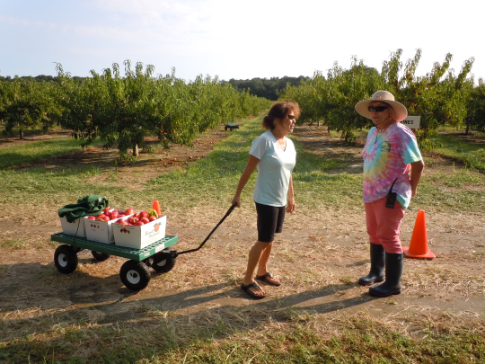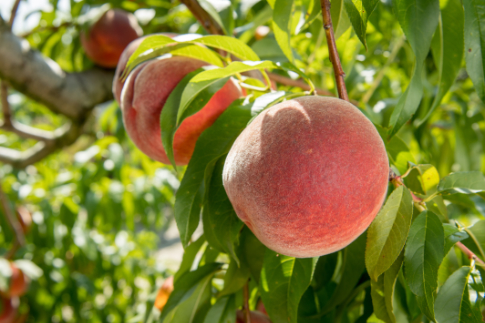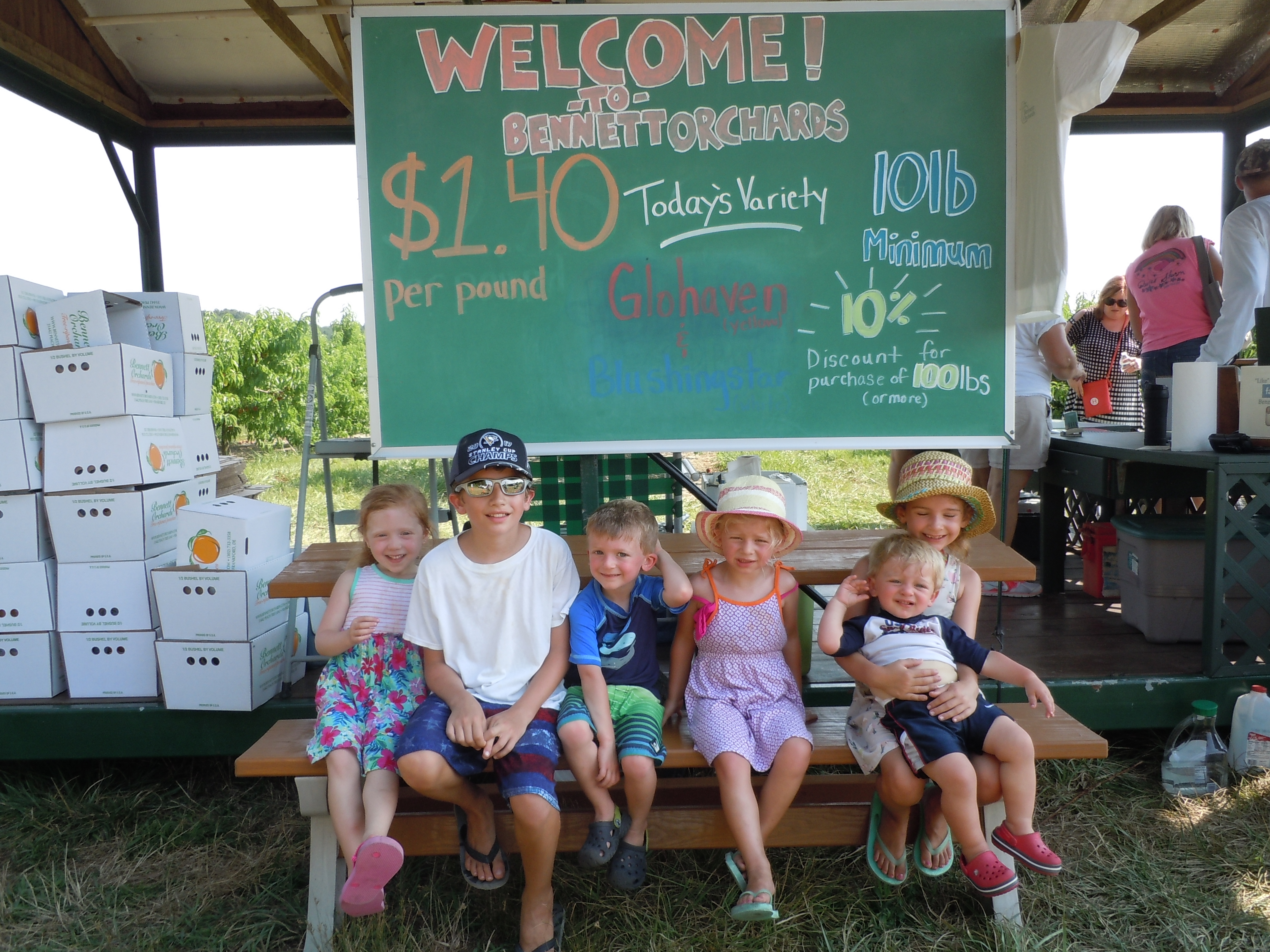 "If you've never eaten a peach that got all the way to ripe while still on the tree, well, then you've never eaten a peach."
-Charles Paparella, WBOC News
'Travels With Charlie'